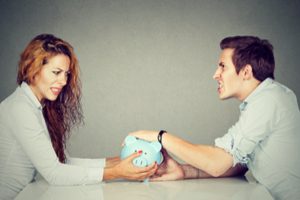 There are a lot of misconceptions when it comes to divorce. One of the most common areas of confusion, and in fact one of the most important aspects of divorce, has to do with asset division. Sometimes asset division can be straightforward and you may qualify for a simplified divorce. Other times, asset division can be incredibly complex and negotiating the asset division portion of a divorce settlement can be difficult. An experienced Florida divorce attorney can help you navigate the asset division process by identifying your goals and preparing you for some consequences of asset division that you might not expect.
Understanding Equitable Distribution
Florida is an equitable distribution state. That means property is divided fairly, but not necessarily equally. With many assets, couples can work together to come to an agreement about what a fair division looks like. When courts are involved in determining what an equitable distribution of assets might look like after a divorce, they will consider several factors that can include:
Spousal contributions to assets and even to the career or academic progress of the other spouse;

Personal preferences in retaining specific assets, such as those with extreme sentimental value;

The contribution of each spouse to the net worth of the married couple from sources such as salary, investments, and other financial contributions;

Intentional waste of marital assets during the marriage or during the divorce process, among others.
This is not an exhaustive list, and as you can see many of the factors can be subjective. That is why it is important to work with an attorney that understands your needs and goals and can advocate for you during the assets division process.
When Possible, Work Together
If you are able to communicate openly and effectively with your spouse, or even if you are willing to take steps to get to a place where you can communicate about asset division, you should work with your divorce attorney to try and do so. You have a much better understanding of the assets you and your spouse share, as well as which assets are most important to you and what your personal goals are for divorce. Maybe you would rather forgo spousal support payments you might be obligated to make in exchange for giving up your interest in the marital home. Maybe you are willing to accept certain jointly held liabilities in exchange for keep both marital vehicles. Whatever the case may be, working with your attorney to develop a clear understanding of your assets so that you can work together in creating a plan to divide them can be much more beneficial to both parties than allowing a court to decide.
If you and your spouse cannot agree on the terms of your property division, then a court will step in and make those determinations for you. While communication is not always possible and agreement can certainly be difficult to achieve, working toward those things may be more beneficial to you in the long run.
Determining Marital Property
Many aspects of property division in a Florida divorce center on what counts as marital property and what does not. Often, but not always, nonmarital property includes assets an individual obtained or had before the marriage began. Nonmarital assets can also include those that are inherited by one individual during the course of the marriage.
Marital property generally consists of assets obtained during the marriage jointly or by one spouse. However, even some assets that might otherwise qualify as nonmarital could become marital assets if they gained value during the course of the marriage. Nonmarital assets can also sometimes become marital assets if the spouse that would not otherwise be entitled to them caused an increase in value or provided significant maintenance or other services toward those assets.
Business Interests
In some circumstances, businesses are also subject to equitable distribution in Florida. There are various approaches to determining the value of a business as well as the interest each spouse has in that value. The outcome can be different depending on ownership rights, contributions to business value, and even liabilities incurred by the business.
Typically, the approach of division of business assets is based on the dollar value of the business after liabilities. It is important to discuss the future of a jointly held business, or even a business owned solely by one spouse, in the event of divorce. There are many things to keep in mind such as whether one spouse can maintain the business on his or her own as well as whether either spouse wants to continue the business. Discussing the approach to business asset division ahead of time can help you and your spouse identify goals you have for your interest in a business venture so that you can work with your attorney on determining the next steps.
Do Not Forget About Debt
Property division involves more than just dividing assets. It also involves dividing debt. Debts are also divided equitably, but that does not necessarily mean you will not be liable for debts your spouse has incurred. If you and your spouse can communicate effectively about your debt and how it should be divided, then you can incorporate that into your divorce settlement. However, like assets, Florida courts will step in and determine how to divide debt if you and your spouse cannot come to an agreement.
Legal Assistance with Florida Divorce
While courts review property division to ensure fairness and to make sure the settlement agreement complies with state law, negotiation often plays an important role in determining a fair property division agreement that will satisfy the court and be accepted while still upholding your rights and meeting the needs of you and your family. An experienced Florida divorce attorney who focuses on working with clients facing divorce understands the many nuances of state law when it comes to divorce and property division. Your attorney can work with you on an approach to assets division that addresses your individual goals while protecting the rights of you and your family. If you are considering divorce and have questions about how equitable distribution works and what that might mean for you, contact Scott J. Stadler to schedule a consultation where you can find out more about what to expect during the Florida divorce process based on your individual circumstances.