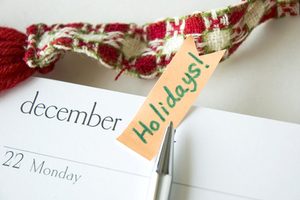 Holidays are one of the most difficult parts of divorce. During the divorce process, they can be wrought with tension and uncertainty. Often, that does not change during the first holiday season after a divorce. In fact, holidays can often be difficult for divorced families many years after a divorce has been finalized. When approaching negotiations over custody and other concerns regarding children, it is important to keep the holidays in mind. We have written several times about ways to make the holidays easier for everyone involved in a divorce, and most recently have provided several important tips that can help you approach the holidays in a positive and productive manner.
Winter holidays are not the only holidays you need to consider when determining a custody schedule and finalizing your Florida parenting plan to submit to the court for approval. This post will explore some considerations you should keep in mind when determining how to allocate parenting time during the holidays that fall throughout the year, including some that you may not celebrate but could still have a significant impact on the time you spend with your children and activities you plan for them during that time. While this list does not cover every important date on the calendar, it does give you an idea of just how detailed your parenting plan should be when it comes to holidays.
Approaches to Longer Holidays
Some parents find it more conducive to their schedule and their relationship with their children to alternate longer holidays, especially if they want to involve vacations. For instance, one parent may take the children during Christmas vacation while the other may take the children during winter break. That way, each parent will get roughly a week of time with the children. Other parents may split important holidays, like Christmas. This often involves one parent having the children on Christmas Eve while the other has them on Christmas Day.
Whatever arrangement you choose, you need to make sure that you have ironed out important details such as the time and place of transitions. Who will pick the children up or drop them off, and at what time on what day? Including important details like this can make the transitions involved much easier on both the parents and the children. These types of holidays can bring intense emotions when you are negotiating custody terms, and you should be prepared for these emotions before beginning the discussion while making sure your focus remains on your children's best interests.
Three-Day Weekends
Most of the time, weekends for divorced parents sharing custody can only accommodate short overnight trips. These might include a visit to grandparents or even a quick overnight getaway to a theme park or campground. The following are common three-day weekends that fall throughout the year that you should consider when creating your parenting plan and custody schedule, as they could allow you the opportunity to plan more activities – including longer vacations if your co-parent and you agree – that can make your time with your children more meaningful. These common three-day weekends often include:
Martin Luther King, Jr. Day;

Presidents Day;

Memorial Day;

Labor Day; and

Columbus Day.
It is important to look at your children's school calendars to see how their school treats these weekends, as not all schools operate on the same schedule. Additionally, you and your children may live in an area that celebrates state or local holidays which provide additional three-day weekends throughout the year.
It is also important for you to determine how these three-day weekends accommodate your work schedule, especially if you are on a rotating schedule with your child's co-parent. You may want to use some of this time for your own getaway, and that will involve communicating with your child's co-parent well ahead of these dates to make sure that your custody schedule transitions smoothly for you and your children.
Floating Holidays
Many jobs provide workers with floating holidays, sometimes in addition to three-day holidays and sometimes in lieu of them. If you have floating holidays available to you, you may have used them at will in the past. When you are dealing with custody during or after a divorce, planning is key and you may need to be more decisive in determining what days you will choose to utilize your floating holidays. For instance, you may want to save them for a day when your child's school has in-service or professional development for teachers where children are not required to be in attendance. Again, intricate planning is key to using these types of holidays to your advantage and to ensuring the best interests of your child are being met, including the need to spend quality time with both parents.
Birthdays
Birthdays are another contentious time of year when divorce enters the picture. When you are approaching a time-sharing arrangement with your child's co-parent, make sure you not only address the child's birthday but also your own. For instance, if you and your child's co-parent have agreed on alternating days or weekends for custody, look ahead and see how that will affect the plans you make for your child on his or her birthday but also for the time you want to spend with the child on your birthday. Disrupting the custody transition or adding tension by arguing about these details down the road will not do you any good, so it is best to get a calendar out and see how your plan will work when it comes to birthdays.
Important Holidays to Note
While not necessarily exhaustive, the following is a list of important holidays to keep in mind when you are negotiating your parenting plan and custody terms within it:
New Year's Day;

Winter Break;

Easter;

Spring Break;

Mother's Day;

Father's Day;

Independence Day;

Halloween;

Veterans' Day;

Thanksgiving; and

Christmas Eve and Christmas Day.
Reading this list, you can probably pick out times of the year and holidays that might be less meaningful for you. Those same periods could be meaningful for the child's other parent, which means you need to discuss them to see what type of agreement you can strike. Keep in mind that losing out on a specific date does not mean that you will lose out on time with your child during that holiday – it just means you may need to be more creative when it comes to creating quality experiences for you and your child to share during the holiday in question.
The Importance of an Experienced Florida Divorce Attorney
An experienced Florida divorce attorney knows how important intricate details, like holiday planning, are to a successful parenting plan and custody schedule. Scott J. Stadler has worked with countless clients on establishing successful, positive, and productive parenting plans that work for everyone involved, including the children. If you are considering a Florida divorce and want to know how it may affect your family, or if you have found the need to modify an existing custody agreement, contact Scott J. Stadler to schedule a consultation and find out more about the important details you need to consider when engaging in the Florida divorce process.