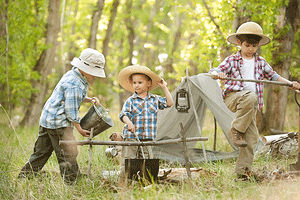 Summer vacation is always a concern for families with children. Even in households where both parents are still together, summer vacation brings many questions. How will we keep the kids busy? If we are both working, how will we pay for childcare expenses? What type of vacation will we have? Will our kids be ready for the next grade? All of these questions are difficult, and none have easy answers. Each family is unique, so the answers to these questions are just as unique. These questions can become much more difficult when parents make the difficult decision to get divorced. When divorce happens, each of these questions is more or less compounded because there are now two individual parents struggling with the same questions. There may even be additional family members with similar concerns. Keeping some of the following tips in mind when planning summer vacation activities can help make summer vacation for divorced families less stressful and keep everyone's focus on maintaining a good relationship with their children.
Create and Maintain a Detailed Parenting Plan
When you work on an agreement with your spouse over time-sharing and other details regarding the children, make sure that you are working to create a detailed, effective parenting plan that covers all of your bases. Avoid vague plans that state time-sharing options in indefinite terms, like, "as much time as possible with each parent." Instead, take the time to ensure that each day and time during the year is covered by your parenting plan, including birthdays, holidays, and every day during summer vacation. It may seem tedious at the onset, but it is well worth the time it will take when you see how much structure a detailed plan provides for your kids and for you. A family law attorney with experience in custody issues can help you design a comprehensive parenting plan.
Learn from Your Mistakes
If this is not the first summer vacation as a divorced family, learn from everything that has happened in the past. Maybe last year certain events took place that made summer vacation as a divorced family more difficult. Maybe the lines of communication between you and your co-parent were not as clear as they could have been. Maybe you are still angry over the fact that you were not able to follow through with all of the plans you had for last year's summer vacation. Whatever the situation, use the events of the past to learn how to avoid similar mistakes this year and moving forward. Consider some of the things that worked well, and build on those things. Consider some of the pitfalls you encountered, and do your best to avoid encountering them again. Instead of carrying anger around for missed opportunities, use everything that happened as an opportunity for growth for your divorced family, and as a way to keep strengthening your relationship with your child.
Plan Ahead
Your parenting plan should be specific enough to handle the common issues that arise during summer vacation, including who has the children on what given weekend or for what period of time during the summer and any associated holidays. This can alleviate a lot of the guesswork when it comes to what time period the kids will be with you during the summer. Make sure to plan any specific activities you want to undertake during the times where you will most likely have the children. If a planned activity, like an out-of-town vacation, is going to cut into the co-parent's scheduled time with the kids, make sure to request a deviation from the time-sharing schedule as early in advance as possible to make sure you give the co-parent enough time to adjust to the schedule change. If you are planning vacations to another state or country, or any type of extended vacation, make sure you make the co-parent aware of your plans well in advance to give him or her time to determine how to plan around the vacation plans. This will also help you secure the necessary paperwork and permission to engage in this type of travel with your kids.
Communicate Openly and Clearly
Let the co-parent know what plans you are considering and what goals you would like to accomplish. If you want to take your kids to a waterpark hotel for the weekend, let your co-parent know that. Tell him or her what you are planning to do, and when you are planning to do it. Do not leave any important details out until the last moment when it is difficult or impossible to change plans. You must learn to accept the fact that there may be times when you cannot do everything you want to do, which likely happened plenty of times when you were married, too. Instead of allowing that to cause animosity, guilt, or tension, prepare for it and make open, clear communication a priority in your co-parenting strategy.
Be Financially Realistic
For most people, a divorce means that both parents are now responsible for the entire portion of any bills they owe. Whereas rent, mortgage payments, utilities, and other living expenses are generally tackled jointly during marriage, they are doubled and handled individually by each parent after divorce. Keep in mind your potentially limited financial resources when planning summer activities. Do not try to promise your kids the most extravagant vacation you can possibly manage, especially if you are doing so in an effort to win their favor. Instead, plan realistic activities that will not break your bank or require you to disappoint your children if you are unable to follow through with them. Use these activities to improve your relationship with your kids and enjoy the time you have with them. Your kids will benefit a lot more from a weekend full of quality time and activities than they will from an extravagant vacation.
Be Courteous and Understanding
When you know in advance what days and times your co-parent is scheduled to have the kids, try to avoid cutting into that time with your specific summer vacation plans. Likewise, try to avoid scheduling vacation plans on days that might be extremely important to the co-parent, like the co-parent's birthday or days important to the co-parent's side of the family. If your particular vacation plans are going to require some rescheduling, or cut into other important family activities, be prepared to discuss these conflicts well in advance. Be prepared for the co-parent to resist or even refuse to accommodate certain changes to the schedule, and don't take such resistance or refusal personally. Put yourself in the co-parent's position to anticipate issues that may arise and help you develop a strategy to deal with them. Putting yourself in the co-parent's shoes may also help you improve perspective as to why certain things can be more sensitive or difficult, too.
Focus on the Kids
Do not involve your kids in the details of all the plans that go into making summer vacation work for divorced families. Keep them away from disagreements and tension that may arise, and do not involve them in discussions over which parent will allow them to do certain things and which parent will not. Ultimately, those details are not important and only serve to make summer vacation less enjoyable for everyone involved. Your focus should be on the time you get to spend with your kids, and you should be using your energy to make that time special and to strengthen your relationship with your children.
Be Prepared
Some level of disagreement, hurt feelings, disappointment, anger, and a variety of other emotions is often inevitable when summer vacation rolls around for divorced families. However, by creating and adhering to a detailed schedule you have already accomplished a great deal. Keeping in mind some of the other tips discussed above can help you anticipate conflict, resolve differences, and have a much more enjoyable summer vacation. For more information on summer vacation for divorced parents, creating an effective parenting plan, understanding the restrictions that come with summer vacations for divorced families, or for more information on other issues related to child custody, contact Scott J. Stadler to schedule a consultation today. A family law attorney with experience in divorce and custody issues can help make summer vacation less stressful and help you create effective parenting plans as part of your divorce settlement.