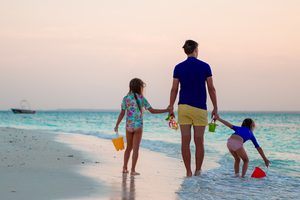 Even though the holidays have just ended and we have barely scratched the surface of the new year, it is never too early to make sure that you are prepared for summer vacation. When divorce enters the picture, it is even more important to make sure you have planned appropriately and communicated effectively with your child or children's other parent. This will help you feel more secure in making sure loose ends have been attended to so that they do not cause any unintended last-minute disruptions that may otherwise derail your summer vacation plans for you, your family, and any children involved. While you may have a comprehensive parenting plan in place as part of your divorce, reviewing it to see if modifications are necessary for your summer vacation plans with your children is an essential part of a responsible approach to co-parenting.
Planning Vacations
If you want to take your child on a vacation during the summer months, divorce will require you to do a lot more advanced planning than you may have otherwise had to do. Even a trip out of state to see a child's grandparents requires a lot more thought and communication than you might think. You may need to make modifications to the parenting plan and custody arrangement to accommodate an extended trip, and making sure that you secure permission to do so from the child's other parent can save you a lot of time and energy as vacation time nears.
It is also important to take dates into consideration. For instance, if you are planning on taking the children on vacation during a time period that covers an important date for the child's co-parent, you may want to reconsider the timing of your plans to avoid conflict. While it is not always possible to do so, communicating about your plans ahead of time can help you and the child's other parent come to an agreement long before it is time to buy plane tickets or make other arrangements that could end up costing you a lot of money should they need to be canceled.
Pay Attention to Details
If you are planning on having your child or children for the majority of the summer, you need to make sure you have the resources to make that time meaningful. If you are newly divorced and summer vacation will be the first time you will be spending an extended period of time with your children, you may need to make some rather major purchases like furniture, accessories, or even a permanent residence capable of accommodating them. Stretching these purchases out over several months makes them more approachable and helps you make sure that you have the resources necessary to create a positive and safe environment to build memories for your family.
If your children have reached an age where you want to take them out of the country, you will need to work with the other parent to make sure that the children have passports and other required documents that may be necessary for international travel. This might include medical physicals and a host of other requirements that are often difficult to arrange if the child's other parent has primary custody. There are also strict legal requirements for taking children out of the country that you need to be aware of. Making a list of these things and working with the child's co-parent can help you make sure there are no last-minute surprises that might otherwise derail your plans.
Activities for Your Child
There are many opportunities for children to stay engaged during the summer that do not involve television or extravagant vacations. Many children participate in activities like swimming lessons, arts programs, summer camps, academic enrichment, or any number of other activities. If you are considering this type of activity for your children, having an open dialogue with the child's other parent is an important part of the decision-making process. Even if your custody arrangement gives you primary custody during the summer months, it is still important to discuss major decisions like this with a child's co-parent. Doing so will help your ex retain a sense of involvement in the child's life and will help children see that both of their parents can work together on decisions that impact the children.
Focus on the Children
Remember, the point of spending time with your children is to continue to build the relationship you have with them. Summer vacation, as with any time you have with your children after divorce, is not a competition to see which parent is better or which parent can provide the most exciting experiences for the child. Quality time will always be more important than extravagant gifts or vacations that break the bank, especially in the long run. You will likely find that continuing to focus on the best interests of the child will make summer vacation and most other aspects of a parenting plan easier to approach and more rewarding for everyone involved. Preparing ahead of time can make sure conflict and other common issues that arise are minimal and have far less of an impact than they can when they catch you off-guard.
Legal Assistance with Custody and Parenting Plans
A comprehensive, detailed parenting plan is an important part of any divorce settlement when children are involved. Not only can these plans help avoid conflict and lessen stress for all parties, they can make your everyday life easier as you plan for work, vacations, and even your own personal time. An experienced Florida divorce attorney will make sure to take a thorough approach to helping you create a parenting plan that works for your family. However, there might be times when such plans need to be modified for any number of reasons. Whether you are considering divorce and have questions about the role a parenting plan will play or have questions about how to modify an existing arrangement, contact Scott J. Stadler to schedule a consultation and find out more about how he can help you navigate the challenges of co-parenting.