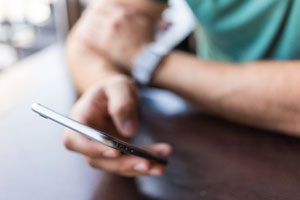 Navigating divorce can be difficult, especially for families with children. It can be much more difficult to determine who is picking the kids up from school or sports practice, who is taking the kids to the doctor, when the children will spend time with grandparents, and generally learning to adapt to a new way of parenting and living in general. However, technology can play an important role in helping individuals deal with divorce. In fact, a new app is working to try and help families cope with their divorce more effectively and productively. Orlando's WKMG reports that a father has developed the FAYR app to help families cope with the rigors of divorce. With thousands of users across the country already, it may prove to play an important role in how you and your spouse approach your Florida divorce and co-parenting.
The Basics
The creator of FAYR, which stands for Family Advocacy Your Responsibility, says he created the app to help parents be the best version of themselves because he realized that every moment of contention between him and his ex-spouse was robbing his children of the father they deserved. The creator says he worked with Florida family law judges, guardians, and several divorce attorneys in order to determine some of the most common problems that arise during and after a divorce. The app is designed to help tackle these problem areas before issues surrounding them arise. The app contains:
A calendar;

An expense tracker;

Geo-tracking; and

A report generator.
By implementing these features into the app itself, many of the issues that lead to contentious exchanges or conflicts can be made simpler to deal with.
Benefits of Tracking
Tracking activities and other specifics is an effective way of avoiding conflict. For instance, the geo-tracking feature can help you keep track of where you and your kids are at any given moment should you need to prove it later. You can also allow the app to send a text message with this information to the other parent, which may help you avoid a fight with them about it later.
Tracking can also help you keep an accurate record of exactly how much you are spending on your kids during activities or in general. The app allows you to easily record this information the moment you have a receipt or other documentation in your hand simply be taking a picture and storing it. From this information, the app is capable of generating information that shows how much money you have spent on child-related care during a given moth or even throughout the entire year.
Organization
The type of information you can track with the app can often be vital, especially in situations in which there are long-term custody issues and you need proper documentation for court. The article and the app's creator point out that many times, individuals lose in court or are unable to prove their particular point because they do not have the proper documentation. The app provides a way to store multiple types of details in one place and create reports that you can present in court to make sure you are able to reinforce important statements.
The app also allows parents to color code their days, which makes it easier to determine on what days each individual parent has certain responsibilities. Some users report that this function also helps younger children be a part of organized co-parenting because children can look at the app to get a sense of what their day or week might look like. This can provide kids with much needed structure during an often-uncertain time.
Users also have the ability to put in important dates, like birthdays or baseball games. You can use the calendar feature to keep track of the activities you have planned for your kids and make sure you never miss important dates in their lives, even those that may occur on days when they are not spending time with you.
Remaining Objective
One of the most important things you can do when parenting during and after a divorce is to remain objective. Make sure you do not confuse your emotions with what is in the best interests of the children. This app and any communication between you and the child's other parent should be aimed at productive parenting and making sure that you are putting your child's needs ahead of your own. If you find the app to be helpful in your custody arrangement, you can use its features to help keep yourself objective when you discuss time with the children or even financial resources. Having a detailed record of important aspects of childcare can help make sure you keep discussions about those topics as objective as possible. This can minimize conflict and make the Florida divorce process easier on you, the child's co-parent, and, most importantly, the children. 
Legal Assistance with Divorce and Custody
While the app and other technology can make keeping track of important aspects of child custody and divorce easier, it is still important to work with an experienced Florida divorce attorney who focuses on working with clients facing similar issues. Doing so can help make sure that you and your children's rights are protected throughout the Florida divorce process and in any subsequent custody or child support issues that may arise. Family law attorneys understand the intricate nuances of divorce, child support, and custody laws as well as how they might affect you. If you have questions about divorce or have already made the difficult decision to pursue a Florida divorce, contact Scott J. Stadler to schedule a consultation.