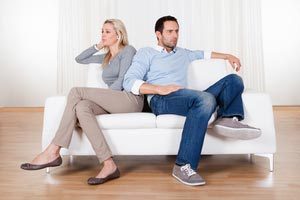 More often than not, communication can be extremely difficult during a divorce. This is especially true when a divorce is the result of one spouse's actions, which may severely strain the relationship he or she has with the other spouse. Even when couples going through a divorce are on good terms and able to communicate effectively, there can be issues handling conflict that will inevitably arise during the divorce proceedings. Successfully navigating the divorce process and emerging in a way that allows both spouses move forward with confidence and success often hinges on the ability of people to manage conflict in their divorces. Taking proactive and productive steps toward managing conflict can be an important part of saving both spouses time, money, and energy as well as making the entire process easier for all involved. This is especially true for couples that share children who will be unavoidably impacted by the divorce, but also for anyone who wants the process to go as smoothly as possible. The following tips provide suggestions about how to successfully manage conflict during the Florida divorce process.
Conflict Self-Assessment
Before you can approach productive ways to mitigate conflict during the divorce process, you need to understand how you personally view and handle conflict. You may think that you have a handle on your attitude toward conflict, but this type of self-assessment can really help open your eyes to things you may do during the negotiation process that actually create conflict or may do little to help resolve it. For instance, if you are conflict-avoidant, then you may take steps to avoid conflict that are ultimately detrimental to you and your well-being.
It is important to understand that regardless of your attitude toward conflict, some degree of conflict is unavoidable. This is especially true in divorce. There are very few times in life where everyone involved in a particular decision will want the exact same outcome or agree on all of the steps to achieve the desired result. Accepting that conflict will arise and being aware of how you handle it are important steps in managing conflict during a Florida divorce.
Mediation
Florida requires couples pursuing divorce to try mediation. In limited circumstances, a judge can waive the mediation requirement, but judges do not like to do so as mediation can be an effective tool for reducing conflict and addressing concerns related to the divorce. Mediation is a process through which both parties to the divorce can meet with their lawyers and an impartial third-party mediator to approach negotiating a divorce agreement. It is a short-term process that is primarily focused on resolving financial issues and concerns related to custody arrangements. This means that you can use mediation to propose terms related to property division, custody, alimony, and other related concerns.
Ultimately, mediation provides a platform for former spouses to voice their concerns. Often, doing so can be difficult one-on-one or without the assistance of a skilled mediator, especially in situations in which communication has severely deteriorated. However, mediation allows individuals to retain control over the terms of the divorce because they can use the process to design their own divorce agreement proposals instead of giving the judge complete power to design the terms of the divorce agreement. Mediation can also help souses move past issues that are impeding their ability to communicate effectively.
Counseling
Counseling can help repair broken relationships during the divorce process. It can be especially useful when children are involved because counselors can work with both parents and children to successfully address issues and work through conflict resolution strategies. These tools can prove immensely helpful during the divorce and will continue to strengthen your communication skills and relationship as you move forward after a divorce. You should not shy away from counseling because of preconceived notions about what it is and what it can do. Instead, research the benefits counseling can provide. Especially when children are concerned, it is important to remember the negative effects that conflict can have on them and their relationship with you. Counseling can help you tackle difficult components of your relationship with your spouse and/or children.
Utilize Other Professionals
A counselor can be a crucial component of successfully navigating the Florida divorce process. However, other professionals can also help you avoid and manage conflict at different stages. One of the most contentious discussions during many divorce proceedings concerns finances. Using a financial planner to help you understand the short- and long-term effects of property and asset division can help you understand your financial situation more clearly, and may even help you make more informed choices when it comes to negotiating property and asset division. Using these types of professionals can have a direct and indirect effect on a person's ability to  managing conflict during divorce.
Know When to Walk Away
Not everyone will be capable of productively addressing conflict each time that it arises. It is important to be self-aware enough to realize when conflict is becoming dangerous so that you can make the wise decision to walk away from the situation and approach the issue again at a later time. Sometimes, all that people need is a little time to think things through, and providing a period of time during which each party to a conflict can "cool down" is a valuable way of avoiding increasing conflict. Walking away from a conflict is not easy, but it can be an important part of making sure the divorce process is not more difficult than it needs to be.
Use an Experienced Florida Divorce Attorney
You cannot underestimate the benefits that an experienced Florida divorce attorney can provide. Florida family law attorneys who focus their practice on divorce work to stay on top of the most recent legal developments concerning divorce in Florida and will be able to provide you with a wide variety of resources to help meet your needs during the divorce process, including providing information about how to avoid and manage conflict during and after the divorce. If you are considering divorce or have already made the difficult decision to pursue divorce, contact Scott J. Stadler to schedule a consultation during which you can find out more about the Florida divorce process. Scott J. Stadler can use his experience to help you manage conflict and emerge successfully from your Florida divorce.