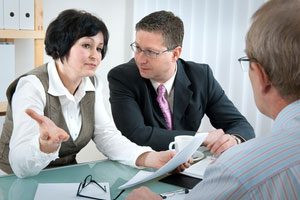 Divorce can often be a contentious process, and it is typically unpleasant for all parties no matter how good of terms you remain on with your soon-to-be ex. Lawmakers and courts continuously search for ways to make divorce more palatable, easier, and more convenient for parties involved in the process. PR Newswire reports that a new option for couples that want to avoid litigation in their divorce has become available with the enactment of the Collaborative Law Process Act. 
Understanding Collaborative Divorce
The collaborative divorce process has been around for some time, but has recently gained nationwide popularity because it allows couples to retain more control over the divorce process and ultimately the divorce settlement. Basically, the process engages couples in a voluntary settlement process whereby each individual may advocate for their position and work together to develop the terms of a divorce settlement without much interference from the Florida court system.
In the collaborative divorce process, both spouses will hire their own attorneys to help advocate for their rights throughout negotiations. Spouses will enter into a voluntary agreement to use the collaborative divorce process without resorting to traditional divorce litigation. The parties and their attorneys will then meet together to discuss the various aspects of the divorce settlement while voluntarily sharing important documents, many of which would be required by the courts were the divorce to go through litigation. Neutral experts will help facilitate important components of the negotiation process.
For instance, financial experts will help parties understand the ramifications of their financial settlement determinations to help each spouse feel more secure in their understanding of the financial aspects of the divorce settlement. These financial experts, like a certified public accountant, will work with the couples to gather information about finances, liabilities, income, and related information. Likewise, mental health experts will help spouses make determinations regarding custody and other matters related to children involved in the divorce in a way that addresses the best interests of the children. Mental health experts can be a valuable tool in helping both parents and children cope with the rigors of divorce, and many couples that pursue traditional divorce proceedings may also find them to be an important asset.
Benefits of the Collaborative Process
As you can probably imagine, keeping the court out of the divorce process as much as possible can have many benefits. The following are common benefits of approaching divorce through the collaborative process:
Privacy: Many people do not realize that information shared with the court during divorce proceedings typically becomes part of the public record. Collaborative divorce helps keep personal information private because it is shared outside of court proceedings;

Client-Controlled: The collaborative divorce approach allows individuals to maintain maximum control over the divorce process because the spouses retain control over the pace and terms of divorce negotiations;

Maintaining Relationships: It is often easier to maintain positive and productive relationships through the collaborative process as those involved in the process typically have been trained to help achieve decisions that benefit the entire family, which helps decrease animosity between the parties involved;

Team Involvement: Involving more people in the process other than just lawyers, such as neutral third-party experts discussed above, can help individuals see multiple perspectives in determining the terms of a divorce settlement. This can help parties find and develop more creative approaches to the divorce settlement process;

Child-Centered: All parties involved typically approach the collaborative process with the best interests of the child or children at the forefront of their role, meaning that each person involved in the process is looking for a divorce settlement that benefits the children as well as adults involved in the divorce process; and

Cost-Effectiveness: The collaborative divorce approach can save couples going through a divorce money as the process is usually cheaper than traditional divorce litigation.
Ultimately, the process may help couples achieve a quicker and more beneficial divorce settlement while maintaining valuable privacy.
Legal Assistance with Your Florida Divorce
It is important to remember that collaborative divorce is not for everyone, especially in situations where communication is extremely strained or impossible. There are many options available to you if you are considering divorce in Florida, and the collaborative process is just one of them. Most Florida divorces will be required to at least explore the process of divorce mediation, which is not wholly removed from the collaborative divorce process. However, if efforts like mediation become frustrated during the divorce process, couples are still allowed to pursue traditional divorce litigation. In such cases, it is important to remember that the court will ultimately have a great deal of control over how assets are divided, so you should try to come to an agreement regarding the divorce settlement as well as any agreements regarding child custody or support arrangements without involving the court.
An experienced Florida divorce attorney who focuses on working with clients going through divorce can be an integral part of helping you emerge from the Florida divorce process as successfully as possible. When attorneys like Scott J. Stadler focus their practice on helping clients navigate the often-complex Florida divorce process, they are able to remain hyper focused on changes in Florida divorce law and changes on the federal level that could in turn impact your Florida divorce. If you are considering divorce or have already made the difficult decision to pursue divorce, contact Scott J. Stadler to schedule a consultation where you will be able to find out more information about the Florida divorce option that is right for you.