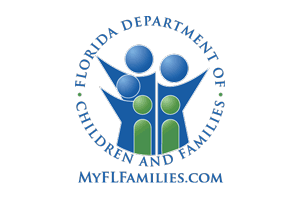 While there can be many reasons to initiate family law proceedings, most can be fairly difficult to deal with, both emotionally and financially. Sometimes, however, there is an underlying need for further assistance that an individual might not be able to attain on his or her own. In many cases, such people are those who are most at risk, or who have the least say in a situation, such as children, the elderly, individuals with poor mental health, or even individuals suffering from substance abuse. While it can be tough, there are some services provided by the state through the Florida Department of Children and Families (DCF).
The Florida Department of Children and Families
Even though there are many services provided through the Florida Department of Families and Children, the primary purpose of the DCF is to protect vulnerable individuals from abuse and neglect, to provide economic assistance to qualifying individuals or families, and to treat individuals and families who are affected by issues concerning mental health or substance abuse. Because the DCF provides such wide variety of services to the entire state of Florida, DCF services are primarily delivered through the central office throughout six regions and 20 circuits in Florida. While there is no clear division of services within the DCF, most of the provided services can be categorized into four main groups, which are economic services, family services, mental health or institutional services, and substance abuse services.
Economic Services
The primary goal of economic services provided by the DCF is to assist low-income individuals and families in becoming self-sufficient and to maintain a stable environment. Under this category are such services as ACCESS, independent living services, public benefits integrity, refugee services, and homelessness services.
While there are many economic services provided through the DCF, one of the primary services is the Automated Community Connection to Economic Self-Sufficiency (ACCESS). This service provides assistance to helping individuals and families in need by determining their eligibility for federally funded services, such as food stamps or Medicaid health services. While it can take time for these services to be applied, applicants can have 24-hour access to their benefit information through the main ACCESS website. While the application can be a complex and may require resources individuals might not have access to, there are a number of agencies connected to ACCESS through a community network that can assist individuals in filing for benefits. These agencies provide services including:
Computers to make an online application

Telephones to contact the DCF Customer Call Center

Printers for ACCESS documents

Fax machines to send documents to the DCF

Copy machines for application related documents

Staff who are able to explain the application process.
Family Services
Because families can have a number of different concerns, it is no surprise that the majority of the services provided by the DCF are aimed towards family services. Such services include:
Adoption

Adult Protective Services

Child Care

Child Welfare

Children's legal Services

Community-Based Care

Domestic Violence

Foster Care

Florida Abuse Hotline.
While there are a multitude of services provided by the DCF, two of the primary services are the Adult Protective Services and the Child Welfare Program.
As can be expected, the goal of the Adult Protective Services, as provided through the DCF, is to to protect vulnerable adults, such as elderly or adults with disabilities, from further abuse, neglect or exploitation. In addition, the Adult Protective Services are aimed at enabling adults with disabilities to remain in the community.
The DCF Child Welfare Program, on the other hand, is focused on ensuring the safety, well-being, and timely permanency of children. This can include a number of goals, which include, but are not limited to:
Preventing separation of children from their families

Reunifying children separated from families by foster care

Assisting young adults who are about to age out of foster care to become self-sufficient

Finding permanent placement for children who cannot be reunited with their families.
While many of these goals are aimed at providing services to children, they are also aimed at providing a stable environment for children, which involves providing services to families.
Mental Health or Treatment Services
While mental health can be a difficult topic to deal with at times, the DCF offers services aimed at assisting individuals who have mental health issues. These services include the Mental Health Program, substance abuse services, and adult mental health treatment facilities. Under the DCF Mental Health Program, the DCF is responsible for monitoring a statewide system of care for individuals with serious mental illnesses or substance abuse disorders. Because mental health and substance abuse issues can contain a variety of needs, the DCF typically provides community-based mental health services through private, non-profit mental health facilities.
Disability Services
Finally, there are services provided through DCF that are aimed at assisting individuals with physical disabilities. The two primary services are those aimed at individuals who are deaf or hard-of-hearing, and disability or LEP services. Primarily, these services are aimed at providing resources for individuals with disabilities in order to connect them with all programs, benefits, and services available. In addition, the main goal of the disability services provided by the DCF is to ensure accessibility of all benefits and services to individuals with disabilities. While this can encompass a wide breadth of people, the disability services also provide for language interpreters for individuals with limited English proficiency.